Cantina Castiglia our vineyards.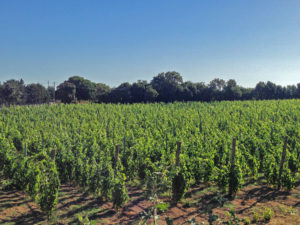 The surface cultivated with the Guyot method is about 8 hectares, concentrated in the lands of Tempio Pausania and Berchidda. Our production is cultivated without the use of chemical fertilizers, pesticides and herbicides.
From the outset, through the choice of rootstocks, research has been carried out within the old vineyards, the idea of ​​quality of the raw material is constantly pursued.
Also the orientation on the cultivation of the vines with the Guyot system, matured after long experiences, took place in this direction. These choices of ours allow a higher quality of our grapes that are preserved with the entirely manual culture and in 20 kg crates to ensure that it arrives in the cellar in optimal conditions for processing. The result is a high quality product offered at a competitive price.
Lastly, the minimum use of preventive products against common ills, such as iodine and downy mildew, and almost non-existent chemical fertilizations to safeguard the organic matter and all the soil microorganisms essential for obtaining a grape above average.